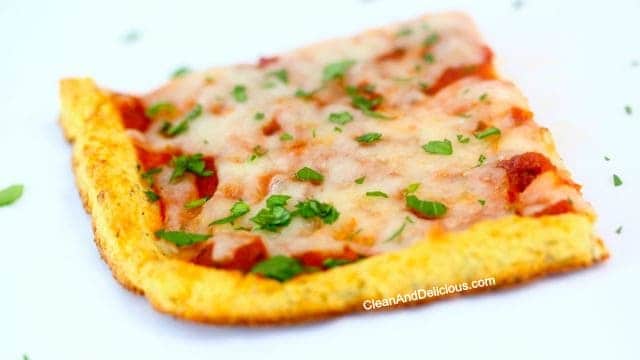 Pizza has really wiggled it's way into our lives since we've moved to New Jersey.
Sure, Jersey is known for corn and tomatoes in the Summer months but pizza is in season all year round.
It's just the Jersey way.
And I can honestly say that I have eaten more pizza since our move to Jersey a year and a half ago then I did in all of the 12 years I lived in California.
So I have been on a mission to find a lighter, more nutritious alternative to traditional pizza that would be so delicious and satisfying that even my pizza-loving-kids would be on board.
This is not a new quest of mine. I've had many failed attempts at cauliflower crust pizza before. Most times, the flavor is good but the texture just doesn't hold up. If you've ever tried a cauliflower crust that falls apart when you try to eat it then you know exactly what I'm talking about.
But after much trial and error and plenty of research I finally stumbled across this recipe. And what I learned was KEY.
It turns out that the secret to cauliflower crust pizza that does not fall apart is squeezing and draining.
If you drain and squeeze as much water as you possibly can from the cauliflower when it's done cooking you will be able to make a cauliflower crust pizza that will hold together.
It's pretty amazing.
Not only does it hold together, it somehow takes on a bread-like consistency. It's wild.
If I was blindfolded, I don't think I would be able to identify the cauliflower. It's the weirdest (most awesome!) thing ever.
If you have been on the look out for an alternative to traditional pizza crust, that just so happens to be gluten-free, you are definitely going to want to give this a try.
This process is a good one to watch, so click the video below if you want to seethe step-by-step! And let me know if you have any questions down in the comments below.
Cauliflower Crust Pizza
This recipe was inspired by Detoxinista.com and was originated by Doris Choi.
Ingredients
1

large head of cauliflower

1

egg

beaten

1/3-

cup

soft goat cheese

1/2

tsp.

Italian seasoning

1/2

tsp.

garlic powder

Pinch

of salt

1/2

cup

marinara sauce

3/4

cup

shredded mozzarella cheese
Instructions
Pre heat your oven to 400.

Line a rimmed baking sheet with a silpat mat or some parchment paper (NOT wax paper).

Break up your cauliflower and pulse it in a food processor, you may have to do this in batches. The goal is for it to be small, fine, rice like texture. Continue until all of your cauliflower has been riced (you want to have 4-cups of cauliflower rice when you are done).

Bring a couple inches of water to a boil in a large pot. Add in the cauliflower and cook for 5 minutes or until the cauliflower is nice and tender. Strain in a fine mesh strainer and place all of the strained cauliflower onto a clean dishtowel. Pull up the sides of the towel and squeeze out as much water as you can from the cauliflower. This step is ESSENTIAL to your cauliflower sticking together so be sure that you get out as much water as possible and dont skip this step!

Transfer the cauliflower to a large bowl and add in beaten egg, goat cheese, Italian seasoning, garlic powder, and a pinch of salt. Combine everything together (I find the easiest way to do this is with my hands).

Transfer to your baking sheet and form the dough. I like to make mine into a rectangle but you can do whatever shape you like. Remember to make the edges a little higher than the rest to create the effect of crust.

Pop it in oven and bake for 30 minutes.

Top with pizza sauce and cheese and put back in oven for 5-10 minutes or until the cheese has melted.

Cool and enjoy!
Nutrition
Calories:
180
kcal
|
Carbohydrates:
6
g
|
Protein:
13
g
|
Fat:
12
g
|
Saturated Fat:
6
g
|
Cholesterol:
115
mg
|
Sodium:
617
mg
|
Potassium:
265
mg
|
Fiber:
1
g
|
Sugar:
3
g
|
Vitamin A:
670
IU
|
Vitamin C:
4.3
mg
|
Calcium:
252
mg
|
Iron:
1.7
mg