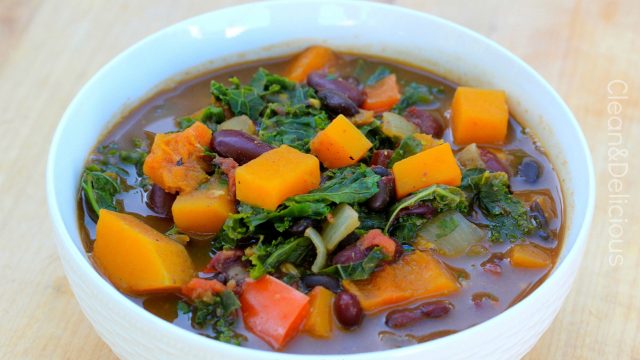 *This recipe is from the archives. An oldie but a goodie.
I know that technically last week kicked off the New Year but for me this week is really the official kickoff. This Butternut Squash Chili w/ Kale is the perfect meal to start off the New Year on the right foot!

You see, when you live three thousand miles away from your family and most of your friends, a tin of fresh baked Christmas cookies from home comes packed with a different kind of vitamin, Vitamin L.
Those cookies were chock full of LOVE and you better believe I wasn't going to let one crumb go to waste! So into my belly they went, one by one, bite by bite, nibble by nibble.

Only problem is they slid down my throat, past my belly and into my butt! So I'm gonna keep things nice and light and veggie based for a while.
This recipe is really easy to make, the hardest part is wrestling with the butternut squash, but remember guys, if you need to save a little extra time you can buy butternut squash peeled and cubed for an extra buck or so at the grocery store.
Finishing the chili with some fresh kale gives it great hearty texture and helps me find yet another way to get my greens in!
Print Recipe
Butternut Squash Chili with Kale
Ingredients
1

large onion

chopped

4

cloves

of garlic

chopped

2

bell peppers

1 red & 1 green, chopped

1/2-1

jalapeno

diced

4

cups

of butternut squash cut into 1-inch chunks

3-15

oz

cans of beans

rinsed and drained (I used black, pinto, and kidney beans)

1

bunch of cilantro

chopped

1

tbsp

of curry powder

2

tbsp

of chili powder

1

tbsp

of cumin

1 15

oz

can of diced tomatoes

4

cups

of veggie broth

1

bunch of kale

stemmed and chopped

2

tsp

of olive oil

Salt and pepper to taste
Instructions
Heat olive oil in a large pot over medium heat. Once heated, stir in onions, jalapeno and garlic along with a pinch of salt. Allow to cook for about two minutes or so.

Stir in bell peppers and cook another two minutes. Add squash, curry, chili powder, and cumin and give everything a good stir.

Add beans, tomatoes, and broth. Turn heat to high and bring everything to a boil. Once boiling, reduce to a simmer and cook until the butternut squash is tender, about 10-15 minutes.

Add kale to the pot and cover for about 5 minutes or until it wilts down. Give everything one last stir. Taste it. Does it need anything else? If not finish it with some chopped cilantro and enjoy!!