Watch the step by step video HERE.
This is one of my favorite breakfast combos.  A quick saute of broccoli, topped with an egg (and some extra whites and finished with shredded cheddar cheese.  Fast, easy, clean + delicious!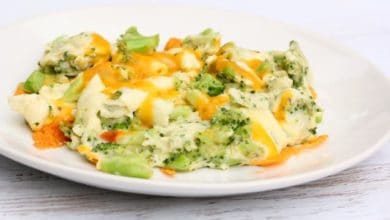 Broccoli + Cheddar Scramble
Yield: Serves 1
Prep Time:1 minute
Cook Time:5 minutes
Total Time:6 minutes
Ingredients:
1 tsp. coconut oil
½ broccoli, chopped
1 egg
1/3-cup egg whites
1 tbsp. cheddar cheese
Salt and pepper to taste
Directions:
Heat a small, non-stick sauté pan over a medium heat. Melt the coconut oil and then add in broccoli. Season with salt and pepper and cook for 3-5 minutes or until the broccoli is tender.
In the meantime, whisk the egg and egg whites together. Pour the egg mixture over the broccoli and stir frequently until the eggs are just about set.
Sprinkle cheese over the top, shut off the heat and pop on a lid for a couple of minutes or until the cheese has melted. Serve and enjoy!
Nutrients for entire recipe: Calories: 231; Total Fat: 13.2g; Saturated Fat: 7.5g; Cholesterol: 195mg; Carbohydrate: 6.7g; Dietary Fiber: 2.8g; Sugars: 1.4g; Protein: 20.5g