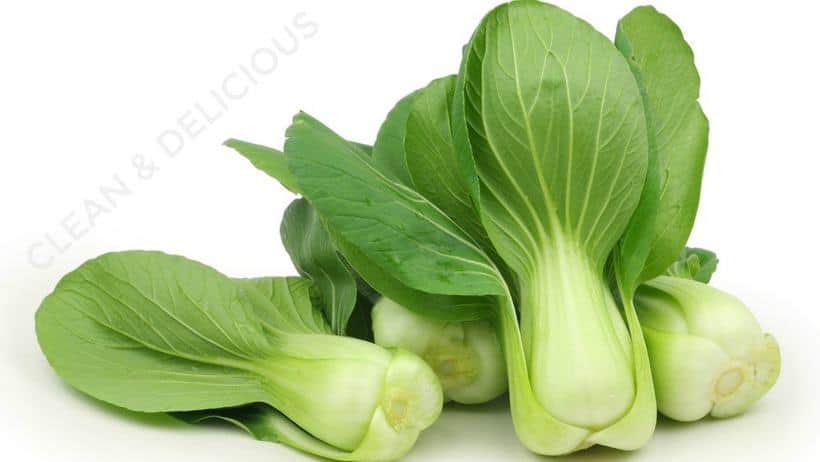 Scroll down to watch the video.
Bok Choy, also known as Chinese White Cabbage, is a cruciferous vegetable that is a member of the cabbage family.
It has a round tender white bulb on the bottom with long celery-looking stalks and dark leafy greens on top. The entire vegetable is edible and can be enjoyed either raw or cooked.
I've often heard it referred to as a gateway green because it has such a mild green. So it's a great choice for anyone looking to lean into more leafy greens.
You can also find immature bok choy (aka baby bok choy). This is simply a younger, smaller version of full-grown boy choy that has been harvested a little bit earlier.
While bok choy is available in the grocery store all year round, winter is when they are at their prime because the frost from the cold weather helps to develop a nice sweet flavor and crisp texture.
NUTRITION
Bok choy is a powerhouse. It's rich in vitamins C, A, and K and is also packed with calcium, magnesium, and iron.
SHOPPING
When you are shopping for bok choy, you want them to look nice and fresh and vibrant and try to avoid any that look wilted or rubbery on the bottom, you want them to look nice and crisp and healthy.
STORING
Once you have them home, just make sure they are wrapped tightly in a plastic bag, (the one from the grocery store is perfect), with as little air as possible. This should last in your veggie drawer for at least 5 days.
PREPARATION
When you are ready to work with your bok chop start by giving it a good rinse under some cold water.
For the fully grown boy chop, I treat it the same way I do celery. Cut off the root end and then run the stalks under cold water, being sure to wash the leafy tops as well.
If I am cooking with this, I always start with my stems and then finish with the greens since the stems take a little bit longer to cook. You'll see the stems get tender and ready when cooked and then tossing the leaves in towards the end gives a bright fresh flavor.
As for baby bok choy, I'll usually slice it in half or quarters and then rinse it just the same.
COOKING
When bok choy is cooked, the stems become tender and creamy and the leaves are fresh and bright. Steaming, broiling, and stir-frying are all great ways to cook your bok choy. It's also delicious enjoyed raw in a salad or coleslaw.
BOK CHOY RECIPES TO GET YOU STARTED