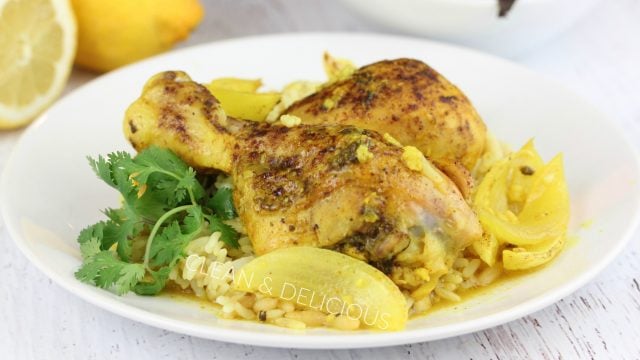 I love a simple meal that my whole family enjoys!  It just makes life so easy, doesn't it?
I've found that chicken drumsticks are always a winner.  I really think it's because my kids feel like they're eating something that's on a stick and for whatever reason they really like eating things on a stick.  I kind of get it, somehow the stick makes things a little more fun!
So, I'm always looking for delicious new ways to bake up a drumstick.
This recipe is both bright and warm.  The combination of turmeric and cinnamon give it a nice warm flavor while the lemon keeps it bright and fresh.
You'll notice that I remove the skin from my drumsticks. I find that because the meat is dark meat, it still stays nice and moist without the skin PLUS since I am baking the chicken the skin wouldn't get crispy any way, so removing it just seems like the best road to travel.
Oh! And if you like to meal prep, be sure to make some extra chicken.  This recipe makes great leftovers.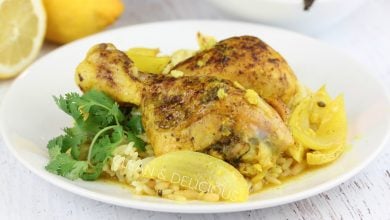 Print Recipe
Baked Turmeric Lemon Chicken
Ingredients
3

lbs.

of chicken drumsticks

about 9 drumsticks depending on the size

2

tbsp.

avocado oil

2

tbsp

lemon juice

1

tsp.

lemon zest

1

tbsp.

honey

1

tbsp.

crushed garlic

2

tsp.

dried turmeric

1/4

tsp

cinnamon

1

tsp.

kosher salt

1/4

tsp.

ground pepper

1

onion

cut into wedges

*optional: cayenne pepper + extra lemon
Instructions
Pre heat oven to 350.

Remove the skin from each drumstick and place in a baking dish.

In a spouted measuring cup, combine avocado oil, lemon juice, lemon zest, honey, garlic, dried turmeric, HALF the cinnamon, salt, and pepper. Whisk together.

Pour the turmeric marinade over the chicken and gently rub the chicken with the marinade until all of the drumsticks are coated on all sided. Stick the onion and lemon wedges all around the chicken so everybody is nice and cozy in the pan.

Pop on a lid and marinade for up to 12 hours (or not at all).

Place chicken in the oven and bake for 45 minutes or until the chicken has reached 165F and is cooked thorough. Allow to cool bit, spoon juices over the top and enjoy!