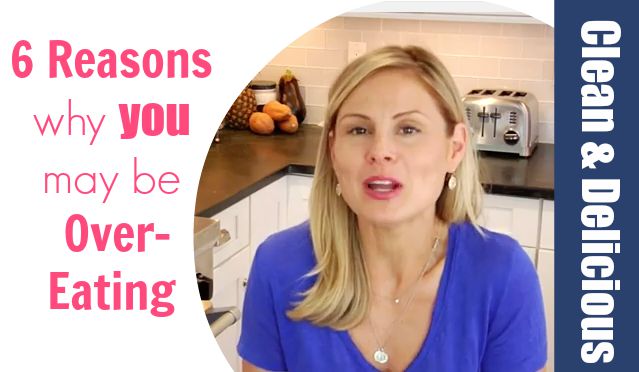 Scroll down to watch the video.
Overeating is an interesting topic. Many people think they overeat simply because they have no discipline or willpower. I want to suggest that overeating has nothing to do with these things. As a matter of fact, overeating is not a problem; it is a symptom of something else that is going on for you. So let's look at overeating in a whole new light and explore some other possibilities.
6 Reasons You May Be Overeating:
Lack of awareness. Simply put, you are not eating when you eat. In other words, you do not pay attention to your meal and therefore miss out on the eating experience. If the brain does not register pleasure and nourishment from a meal, it will say, "HUNGRY". This message will cause you to keep eating even though the physical hunger has gone. What you are now hungry for is your own attention.
Meal skipping. This one is simple, but true nonetheless. Think of your appetite like a pendulum that it is aligned with your physical appetite (vs. the mental appetite). If the pendulum swings to far in one direction (i.e. not eating or skipping meals) it is bound by nature to swing back the other way (and when it does, it will be with vengeance). You may be clever, but at the end of the day you cannot outsmart your body, no matter how hard you try.
Attempting to de-stress. Within 30 seconds of chewing and eating food there is a chemical reponse in the body, which puts the body into an automatic relaxation response. If you don't practice using other tools for de-stressing (i.e. breathing, walking, calling a friend, journaling, etc.) eating food will provide you with a quick ticket to 'destination relaxation'.
Feeling ungrounded. Sometimes when we have something going on in life that creates big feelings inside of us or if we are in a state of transition, vulnerability, or unknown; eating more food will help create the experience of feeling more grounded. Remember, feelings are simply vibrations in the body, so eating more food and 'weighing' yourself down helps to ease the intensity of an intense feeling.
Numbing Out. Ever have a feeling, circumstance, situation, etc. in your life that you just don't feel like looking at or dealing with? Well overeating is a great distraction and once you are done overeating you can now direct all your attention to why you shouldn't have done that, yet again distracting yourself from the main issue. It's ok to not want to deal with your feelings sometimes BUT if you are going to give yourself a label, be truthful. You are not "an overeater' you are simply "a person that doesn't feel like feeling your feelings at that time". And that's ok.
Lack of Pleasure. When we do not receive enough pleasure in our lives we tend to reach for symbolic substitutes. Eating some of your favorite foods can provide temporary pleasurable experiences. Use them when you choose. Receive the pleasure they are giving you. Then move on.
As you can see, none of these causes of overeating can be 'managed' or remedied by trying to 'control' or 'restrict' your diet. The eating itself is merely an invitation to dive in and take a closer look at yourself. Be curious and interested in you! You may just learn something that you didn't know.
Do you ever find yourself overeating? And if so, can you relate to any of the examples above? Do any of these reasons resonate with you? I'd love to hear your view down in the comments below.