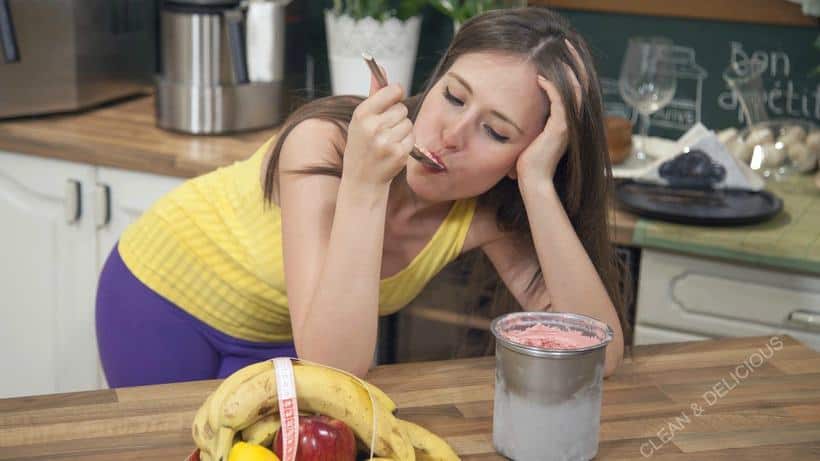 Scroll down to watch the video.
My definition of emotional eating is when we are eating to avoid or numb out an uncomfortable emotion. Sometime this is conscious, most times it's not.
A lot of people say eating when you're not hungry or eating emotionally is self sabotage, but I think it's the opposite. I believe that for most of us, eating emotionally is an attempt at self care.
Something comes up for us that is uncomfortable or unpleasant and we try to make ourselves feel better by eating.
And here's the thing, it's kind of a brilliant strategy in the sense that it works (albeit for a very short time).
But it's a very temporary fix, that ultimately does not support long term health and weight loss goals (plus, as soon as we are done eating the original emotion is still right there waiting for us).
So the real work to do when it comes to emotional eating, is to identify the feeling you are trying to care for and then find a better, more effective way of doing that.
It's the ultimate act of self care.
Here are three simple tools that have helped me over the years.
Awareness
You have to be willing to pay attention to the stuff you don't normally want to pay attention to. Often times we have so much inner dialogue and conversation around what we should and shouldn't be eating that once we go off of our self proclaimed rules, we tend to tune out.
This is what I call eating behind your own back. It's the, 'f-it I'll start again tomorrow' mentality,
So what I am suggested, is NOT that you stop yourself from eating the food but rather that you get really curious and stay with yourself while you're eating the food.
Have you ever actually payed attention to yourself and the process of overeating? Have you ever watched yourself eat the bag of potato chips or the entire pint of ice cream? Have you ever actually just stayed with yourself during that experience?
Like, hmmmm… this is so interesting. What is this food actually doing for me right now and what am I gaining from this eating experience? Because while we may not like the habit of overeating, I promise you, we never do anything without good reason. So be curious.
Identify The Emotion
So once you have practiced bringing your awareness and allowing whatever is happening to happen, I want you to notice, what you are feeling.
The feeling that we really want to identify is the feeling that tales place right before the decision to eat.
I want you to ask yourself, "What am I feeling right now?".
This doesn't have to be a big, heavy emotion or a negative emotion.
For instance, I found that I would turn to food pretty much anytime I was experiencing what felt like a big emotion to me. So it could be frustrated or stressed OR it could be super excited or eager. And often times, it should be something as simple as bored.
This will be different for everyone, but the practice here is to try to recognize the emotion that is creating the desire to eat.
Nourish the Emotion
Once you have identified the emotion, ask yourself, "What can I do right now to take care of and nourish myself without food?".
What is it that I really need or want right now?
This really is the ultimate act of self care. It's an invitation to be in relationship with yourself. To really understand whats going on for you when it's going on and then to learn/practice how to care for yourself in away that supports your longterm health and weight loss goals without using food.
I am not suggesting this is a quick fix, but I do know these tools work because they are the very same tools I have used and applied over the years to end my habit of emotional overeating. xo
[youtube width="820″ height="421″]https://www.youtube.com/watch?v=lYk9kexQcaM[/youtube]