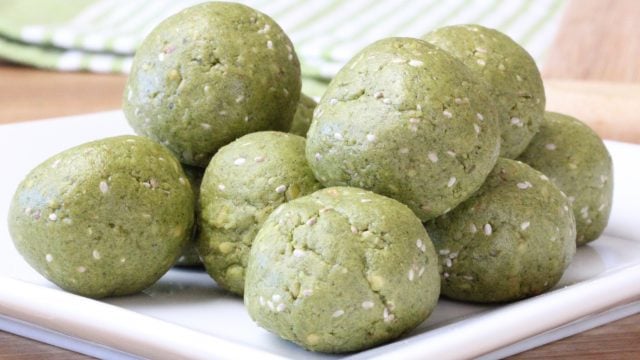 These matcha protein bites use almond butter, oats and protein powder to create a simple base, making them the perfect pre or post workout snack.
No Bake Matcha Protein Bites
Yield: 12 pieces
Prep Time: 15 minutes
Cook Time: 0 minutes
Total Time: 15 minutes
Ingredients:
4 tablespoons almond butter
1/2 cup rolled oats
1 scoop vanilla protein powder (20 grams)
2 teaspoon matcha powder
1 tablespoon chia seeds
1 tablespoon honey
2 teaspoons coconut oil
pinch of sea salt
Directions:
Combine all ingredients in a food processor and blend until mixed together.  The mixture will resemble sand but stick together when squished with your finger.
Scoop a small amount of the mixture (I used 13 grams for each ball to get 12 balls total) and form into a ball with your hands.
Place a plate or baking sheet lined with parchment paper and repeat until you have made 12 balls.
Transfer to an airtight container and store in the fridge for up to two weeks.
Nutrients per ball:  Calories: 72; Total Fat: 4.3g; Saturated Fat: 0.9g; Cholesterol: 0mg; Sodium: 9mg Carbohydrate: 5.5g; Dietary Fiber: 1.5g; Sugars: 1.9g; Protein: 4.5g