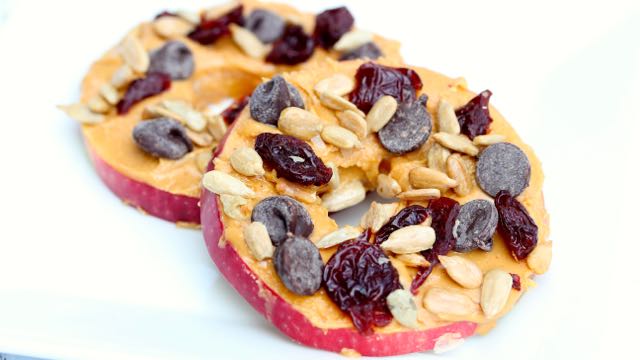 Watch the step-by-step video HERE.
These Apple & Almond Butter Donut Rings are the perfect mix of protein, carbs, and healthy fats. They make a great afternoon snack, and are perfect to pack into a lunchbox!
PS – This apple corer will make this snack much easier to make!
Apple & Almond Butter Donut Rings
Yield: Serves 2
Prep Time: 5 minutes
Cook Time: 0 minutes
Total Time: 5 minutes
Ingredients:
1 apple, peeled and cored
2 tbsp. natural almond butter
1 tbsp. chocolate chips
1 tbsp. dried tart cherries
1 tbsp. sunflower seeds
Directions:
Slice apples into ¼ inch rounds.
Spread a bit of almond butter on top of each slice and then sprinkle chocolate chips, tart dried cherries, and sunflower seeds over the top. Enjoy!
Nutrients per half of recipe: Calories: 226; Total Fat: 13.9g; Saturated Fat: 2.5g; Cholesterol: 0mg; Carbohydrate: 25.1g; Dietary Fiber: 4.1g; Sugars: 14g; Protein: 4.1g