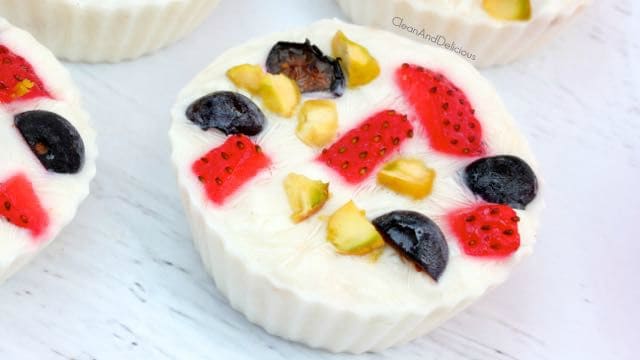 Watch the video HERE.
Even though we are coming close to the cooler weather, we are still hitting the 90's here on the east coast, so I wanted to share one more frozen treat before summer is gone.
These little Banana and Berry Yogurt Cups are a really fun and easy way to make a healthy frozen treat for you and/or your little ones. I mashed up a ripe banana to sweeten up my yogurt and then added in some blueberries, strawberries and pistachios.
You can easily make these your own buy adding your favorite fruits, nuts and seeds!
Be sure to watch the video to see the step-by-step.
Frozen Banana + Berry Yogurt Cups
Yield: 9 Yogurt Cups
Prep Time: 10 minutes + freezing time
Cook Time: 0 minutes
Total Time: 10 minutes + freezing time
Ingredients:
1 cup Tillamook Plain and Simple 0% Farmstyle Greek Yogurt

1 ripe banana

¼ tsp. cinnamon

¼ cup blueberries, halved

½ cup strawberries, diced

1 tbsp. chopped pistachios
Directions:
In a small bowl, mash the banana using the back of a fork.  Stir yogurt and cinnamon into the banana-mash and combine.
Divide the yogurt mixture evenly amongst 9-lined muffin cups (I like using the silicon cups).  Top each cup with a combination of strawberries, blueberries and pistachios.  Pop in the freezer until frozen through (about 3 hours).  Enjoy!
TIPS:
Once the yogurt cups have frozen through, you can remove them from the cupcake liners and store in a freezer bag.

You can use nonfat, low-fat, or full fat yogurt for this recipe.

Try using a variety of your favorite nuts, seeds, and berries.  
Calories: 39; Total Fat: 0.8g; Saturated Fat: 0.1g; Cholesterol: 0mg; Carbohydrate: 5.7g; Dietary Fiber: 0.8g; Sugars: 3.5g; Protein: 2.8g