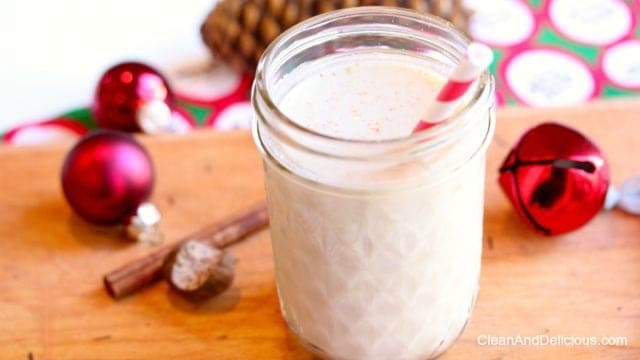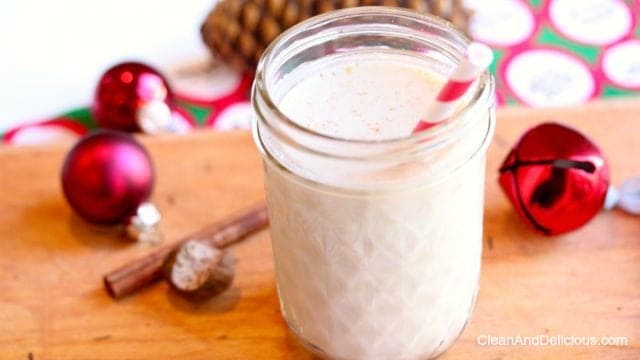 Is anyone as excited as I am that tis' the season of eggnog?!
I have a  feeling you guys are, because eggnog is one of the most requested recipes I get this time of the year.  Completely understandable, right?  I mean it's so freaking delicious.
But it's no secret that the real deal is quite an indulgent, rich, drink (especially if you like to add a bit of bourbon!) so I wanted to come up with a lighter version that I could enjoy several times throughout the holiday without feeling heavy and weighed down.
And because traditional eggnog is made with some combination of whole milk and/or heavy cream the easiest and most obvious way to lighten this up is to swap out the milk.  By using almond milk in place of full fat milk or cream, I was able to literally slash the calories in half.
In case you haven't heard me rant about it in the past, store bought almond milk and fresh, homemade almond milk are like two different products.  I don't like store bought almond milk (or at least I haven't found one I like to date) but fresh, homemade is an entirely different story.
It's light, it's frothy, it's creamy and it totally works in this recipe!
However, if you don't want to deal with the whole almond milk thing, but you want to lighten your eggnog up, you can swap in any type of lighter milk you prefer (non-fat, low-fat, soy, coconut, etc.).  Pick whatever milk lights you up – make it work for you (because really, it's all about you!).
I also swap out refined sugars for a little bit of honey and  -boom!- that's all it takes to lighten up your eggnog without compromising its yum factor.
A couple of side notes:
When you heat your milk, keep the temperature super low.  You do not want the eggnog to boil or the eggs will scramble (bleh!)
The eggnog will thicken once heated and then it will thicken even more once it's chilled.  So surprisingly, the lighter milk will still yield rich, creamy eggnog.
Ok – I think I've shared all my thoughts on eggnog.  Let me know what you think!  And if you have any thoughts, questions, tips, or ideas regarding eggnog (or life!) please share it all down in the comments below.
Happy Eggnoggin'!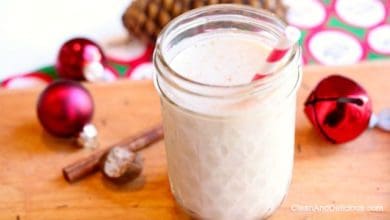 Clean Eating Eggnog
Yield: Serves 4
Prep Time: 5 minutes + 6 hours in fridge
Cook Time: 20 minutes
Total Time: 6 hours + 25 minutes
Using almond milk in this recipe keeps the calories really low (skim milk would do the same) but please feel free to use whatever milk excites you, they will all work!
Ingredients:
2 cups almond milk (or any milk you fancy)
2 eggs (I like organic, pastured eggs)
2 tbsp. honey
1 tsp. vanilla extract
½ tsp. cinnamon
½ tsp. nutmeg
Directions:
Place all ingredients into a blender and blend for 2 minutes (you want the mixture to be light and airy).
Pour into a small saucepan and heat over a low heat for 15 minutes, stirring often (you do not want this to boil or it will scramble!). The goal is for the eggnog to reach 160 F, but if you do not have a thermometer cooking over a low heat for 15 minutes should do the job.
Allow the eggnog to cool a bit and then pour into a mason jar (or just leave it in the pot) and pop in in the fridge overnight or long enough to chill. The eggnog will thicken up while in the fridge.
You can enjoy your eggnog as is, over ice, with a shot of your favorite booze, or stirred into a hot cup of coffee. Enjoy!
Makes 4 servings
Nutrients per ½ cup: Calories: 86; Total Fat: 3.5g; Saturated Fat: 0.5g; Cholesterol: 90mg; Carbohydrate: 9.6g; Dietary Fiber: 0.5g; Sugars: 8.6g; Protein: 3.7g