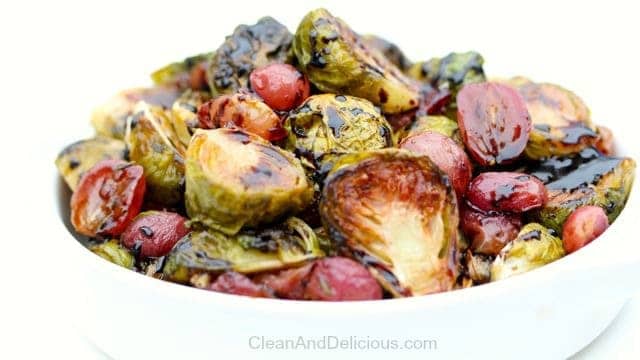 Scroll down to watch the video!
This recipe for roasted brussels sprouts and grapes was a request I received from one of my viewers on YouTube.  Before her request, I had never heard of this dish before.  Have you?
Basically you roast up your brussels sprouts and add some grapes into the mix.  The grapes get really sweet and pair perfectly with the nutty, earthy flavor of the brussels sprouts.  This duo reminds me a lot of cabbage and apples, it has the same sort of flavor combination.
I made a simple balsamic glaze to drizzle over the top.  The glaze adds another sweet, rich dimension to the dish which makes it feel very 'holiday'.  Well, that and the red grapes.  Roasted red grapes are really quite beautiful and also make this dish feel very festive.
If you decide to add this one to your holiday menu, let me know.  I would love to hear what you think!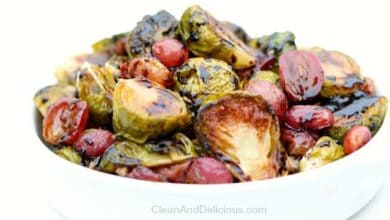 Brussels Sprouts And Grapes
Yield: Serves 4-6
Prep Time: 15 minutes
Cook Time: 30 minutes
Total Time: 45 minutes
Ingredients:
1 lb. Brussels sprouts, trimmed and halved
½ lb. seedless red grapes, halved
1 tbsp. extra virgin olive oil
2 cloves crushed garlic
½ tsp. kosher salt
¼ tsp. ground pepper
1 tbsp. balsamic glaze
Directions:
Pre heat oven to 400
Combine Brussels sprouts, grapes, and garlic in a large bowl. Drizzle with extra virgin olive and season with salt and pepper. Toss everything together until the Brussels sprouts and grapes have a nice light coating of the olive oil and seasoning.
Spread everything out a rimmed baking sheet and roast for 25-30 minutes, flipping half way through, until Brussels sprouts are golden brown.
Transfer to your favorite serving dish and drizzle with 1 tbsp. balsamic glaze. Enjoy!
Serves 4.
Nutrients per 1/4th of recipe: Calories: 78; Total Fat: 3.71g; Saturated Fat: 0.5g; Cholesterol: 0mg; Carbohydrate: 9.7g; Dietary Fiber: 2.1g; Sugars: 5.6g; Protein: 2.1g