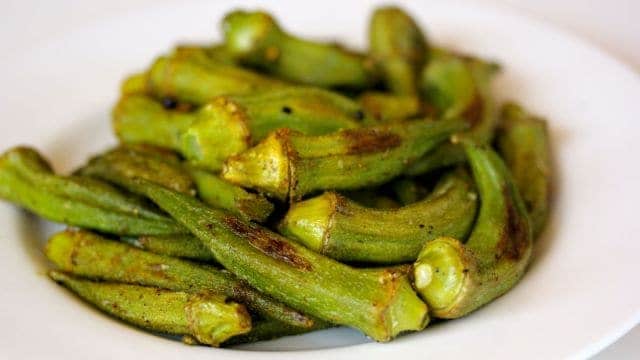 You guys never fail to surprise me when it comes to which ingredients and recipes get you excited!
There was a lot of feedback and chit chat around the Okra 101 Video last week so I'm excited to share this simple recipe for making Okra "Fries".
Although a few people made this suggestion in the comments last week, I learned this technique from Susan over at FatFreeVeganKitchen (thanks Susan!!).
If you are an okra virgin this recipe is the PERFECT place to start.  Theres no cutting or slicing into the okra so the 'slime' factor that so many people freak out about is a non-factor in this recipe and what you end up with is crispy, crunchy, flavorful 'Okra Fry'.
They are truly addictive straight out of the oven and as a matter of fact that's exactly the way I recommend you eat them… hot and fresh and right out of the oven!
Have you ever tried roasting okra before?  Better yet, have you ever tried corn meal crusting and then roasting your okra (a recipe I really want to try)?
Oh!  And stay tuned… because the okra party is not over yet.  Next week, we talk gumbo;).
Roasted Okra Fries
Yield: 2-4 servings
Prep Time: 5 minutes
Cook Time: 15 minutes
Total Time: 20 minutes
Ingredients:
1 lb. okra, trimmed
2 tsp extra virgin olive oil
Fat pinch of Kosher salt
Fresh ground pepper
Sprinkle of curry powder
Directions:
Pre heat oven to 450.
Toss okra in a large bowl with olive oil, salt, pepper and curry powder.
Spread out on a rimmed baking sheet (make sure they're not touching) and roast for 15 minutes.  Enjoy!
Serves 2-4.
For half the recipe --> Calories: 102; Total Fat: 4.7g; Saturated Fat: 0.8g; Cholesterol: 0mg; Carbohydrate: 14.8g; Dietary Fiber: 6.4g; Sugars: 2.4; Protein: 4g