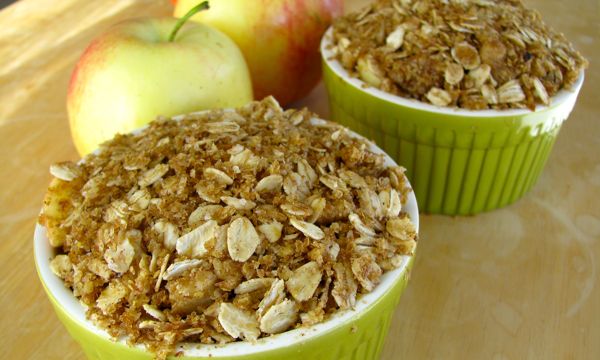 Clean Eating Individual Apple Crisps
Yield: 4 servings
Prep Time: 5 minutes
Cook Time: 20 minutes
Total Time: 25 minutes
Ingredients:
4 apples cut into small bite size pieces (about 3 cups)
1tbsp fresh lemon juice
1 tbsp brown sugar
1 tsp cornstarch
1/2 cup rolled oats
¼ cup wheat germ
¼ cup chopped walnuts
1 tsp cinnamon
1 tbsp coconut oil
1 tbsp maple syrup
3 tbsp brown sugar
A pinch of nutmeg
A pinch of salt
Directions:
Pre-heat oven to 350.
Combine apples, lemon juice, brown sugar and corn starch in a medium bowl.
Lightly spray four 3.5-ounce ramekins with cooking spray and divide the apples evenly into each of the four dishes.
In a separate bowl, mix together the oats, cinnamon, wheat germ, salt, brown sugar, and walnuts.  Stir in the oil and maple syrup and combine well until the mixture is moist.
Top each of the ramekins with a couple tablespoons of the crisp topping and place in to the oven for twenty minutes or until the tops are golden brown and the apples are cooked through.  Enjoy!
Calories: 256; Total Fat: 9.6g; Saturated Fat: 3.5g; Cholesterol: 0mg; Carbohydrate: 41.3g; Dietary Fiber: 4.4g; Sugars: 25.9g; Protein: 4.4g