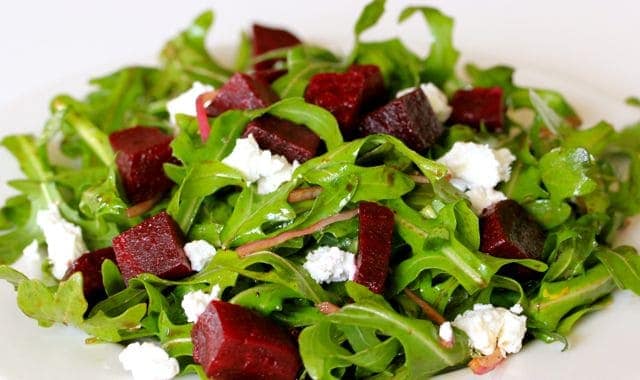 You've heard me talk about 'head-start ingredients' before and know how much I love my 'pre-preppin' and this salad is the perfect example of why!
Remember those Simply Steamed Beets from earlier in in the week ?  Well just take a look at how they came back for a quick weekday lunch and stole the show!
Adding some simply steamed beets to a simple Arugula and Goat Cheese Salad elevates this meal to the next level.
I am willing to toss some arugula and goat cheese with vinegar and olive oil for a weekday lunch but I would not be so willing to take the time to steam, peel, and season the beets.
Having the beets in the fridge and ready to go makes all the difference in the world and gives this salad center stage credentials.
Arugula, Beet, and Goat Cheese Salad
Yield: 2 servings
Prep Time: 10 minutes
Cook Time: 0 minutes
Total Time: 10 minutes
Adding some raw walnuts or almonds to this salad is a great way to add another layer of flavor and texture along with some healthy fats.
Ingredients:
4 cups of arugula
¼ red onion, thinly sliced
½ cup of steamed beets
2 tbsp balsamic vinegar
1 tbsp plus olive oil
Salt and pepper
2 oz goat cheese
Directions:
Combine arugula, onion, and beets in a large bowl.  Toss veggies with balsamic vinegar and olive oil, season with salt and pepper.
Divide salad amongst two plates and top each salad with half of the goat cheese.  Enjoy!
Makes 2 servings.
Nutrients per 1/2 recipe: Calories: 205; Total Fat: 14.4g; Saturated Fat: 5.3g; Cholesterol: 13mg; Carbohydrate: 13.4g; Dietary Fiber: 3.3g; Sugars: 9.8g; Protein: 7.9g