As much as I love using fresh, whole foods to build my meals on a daily basis; sometimes I need to lean on my freezer as a backup. I'm going to show you the 10 healthy freezer staples I keep on hand and how I use them to create simple, delicious, nutritious meals when I'm in a pinch and/or short on time.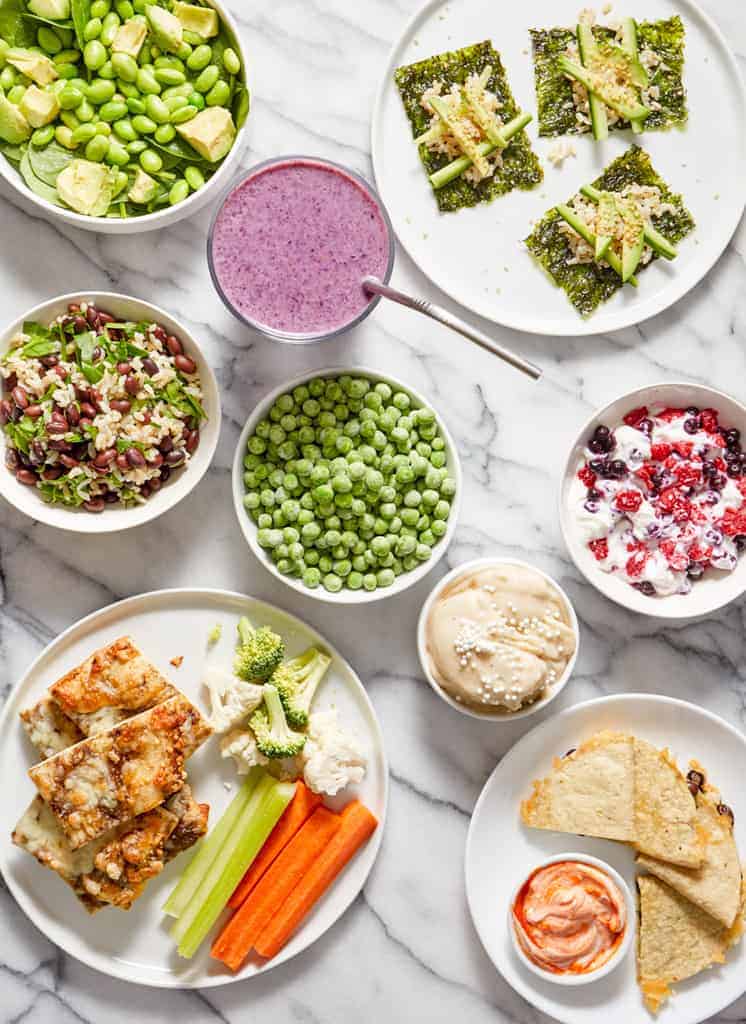 Watch what I buy and how I use them
After sharing my 10 healthy fridge staples a few weeks back, I had a lot of requests for freezer and pantry (coming soon!) staples as well. So I am excited to share the freezer version of that video, highlighting the foods I keep on hand and how I use them.
Keeping simple staples on hand makes healthy eating so much easier for myself and my family. I stick to some of our favorite ingredients and then reach for them all week long to make super simple, delicious, nutritious meals. Watch to see some of my favorites.
Be sure to scroll down to see the list of my 10 go-to ingredients. It's amazing how many meals and snacks can be made when you have these ingredients on hand.
[ytp_video source="_Wv9HyiJhCw"]
10 Healthy Staples I have In My Freezer:
Frozen fruit: mango, pineapple, avocado, bananas, blueberries, strawberries + raspberries
Frozen rice: brown, jasmine + a rice medley that I usually buy at Trader Joe's
Frozen tortillas and/or English muffins
Soup or chili: always cook once and eat (at least twice), often this looks like lentil soup, turkey chili, or minestrone soup
Sweet treat or grab-n-go breakfast: peanut butter oat bars, chocolate chip cookies, or breakfast sandwiches
Grass-fed meat, organic chicken, heritage breed pork: all from Butcher Box
Salmon + Scallops: again, from Butcher Box
Frozen veggie burgers: Dr. Praegar's are my fave
Frozen veggie dumplings: from Trader Joe's, my kids are obsessed
Truffle flatbread: from Trader Joe's, not super clean – but SO good
Frozen peas + edamame: kids love frozen peas as a snack and edamame is great in lunch boxes
And one last thing I can't believe I forgot to include in the video is frozen yogurt. I like to buy organic, lower-sugar tubes of yogurt (I'm a big fan of Siggi's) and leave them in the freezer as a cold and creamy sweet treat for the kids. Like an ice pop, but less sugar.
10 Healthy Meals Using My Freezer Staples
I have a lot of go-to meals and snacks that I make using my freezer staples, so be sure to watch the video above for more ideas! But here is a list of some of the go-to meals and snacks we turn to, using our freezer staples.
Rice + black beans (mix frozen rice with canned black beans + season with salt, pepper + garlic powder)
Veggie dumplings with edamame
Mushroom flatbread served with raw veggies
Sprouted toast English muffin with nut butter and berries (or bananas)
That's just a handful of the recipes I turn to when I need something easy and/or if I'm in a pinch. All of these options are delicious and they certainly beat the alternative of grabbing fast food or ordering a pizza.
How I Organize My Freezer
You can get a little peek in the photo above and most certainly get a more thorough walk through in the video, but here is the general idea.
Top drawer is my smoothie drawer. This is where I keep all of my frozen fruits (berries, mango, avocado etc.) and my frozen rice. They don't necessarily go together but that's how I can get it all in my freezer.
So top drawer is rice and smoothies, lol.
The center drawer has a combination of grab and go options like flat bread, veggie burgers, leftover soups and oat bars (or any other sweet treat I may have whipped up). Energy balls are great for the freezer.
The bottom left is all of my frozen meats and the bottom right is frozen veggies + seafood.
That's the general idea, but again, for more clarity be sure to watch the video.
More Helpful Healthy Eating Posts
I'd love to know if you try this (or any) recipe! Tag @clean_and_delicious on Instagram to let me know and be sure to subscribe to our mailing list to receive more healthy, delicious recipes straight to your inbox.