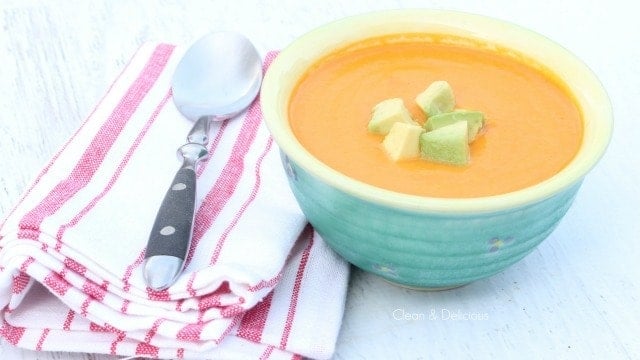 Scroll down to watch the video.
This flavorful and nourishing Golden Pepper Soup is from the cookbook Eating Clean, written by Amie Valpone of The Healthy Apple.
Amie struggled with many different symptoms (including leaky gut, adrenal fatigue, and) over many years and eventually took her health into her own hands and literally healed herself of all of her symptoms.
All of the recipes in Eating Clean are free of refined sugar, gluten, dairy, soy, eggs, and processed foods.  It's also a handbook on how to remove toxins from your cleaning supplies, beauty products and food.
This is the first recipe I have tried from the cookbook and my family and I loved it.  It reminds me a lot of a tomato soup, except with the fresh, bright flavor of bell peppers.
The first time I made this soup, I served it with my Kale Caesar Salad and the second time I made it, we had it with Quesadillas.
Watch the step by step instructions in the video below and if you are interested in the cookbook, you can check it out here.