I've learned that when it comes to cooking, it's more important to observe the technique instead of the details of the exact recipe.
So for instance, the details in this recipe would be the balsamic strawberries and feta cheese. They make a great combo, they're delicious and they're in season right now, but you could easily change up the topping with whatever you had on hand.
You could do a different fruit or skip the fruit and go right for an all veggie salsa-like topping.
Or you could skip the topping and serve the chicken over a big bed of spinach or arugula. Whatever road you travel the details always have endless options.
Now on the flip side, the lightly sautéed chicken breast would be the technique. It is a super simple, quick, healthy way of preparing the chicken. And since we are using a non-stick pan we are able to get the browning results that sautéing provides without having to use a lot of added fat.
Once you have this cooking technique in your back pocket, you'll never let chicken sit in your fridge again. At the very least you know you can give it a light sautee and serve it with some of your favorite fruits or veggies.
What are some of your favorite ways to make a quick chicken dish? Have you ever tried adding fruit to your chicken before?
*note: This recipe was one of the strawberry recipes featured in my 'Strawberries 3x' video.  You can watch the step-by-step below.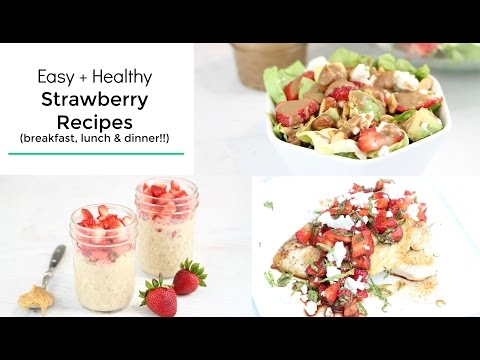 [Read more…] about Pan Seared Chicken with Strawberries + Feta Cheese