Scroll down to watch the video!
I love making chili on Halloween.
What I usually do is make it either the night before or the morning/afternoon of and then put the entire pot in the fridge until dinner. And then once we all come back from a chilly afternoon of trick or treating, I just pop the whole thing on the stove and heat it up.
It's quick, comforting, clean, & delicious!  Plus my whole family will eat it and there is always plenty to share should we pick up some friends along the way.
Adding the pumpkin is a fun touch this time of year.  Plus pumpkin is rich in beta-carotene which boosts our immunity (a nice little perk this time of year).
If you want to take your Clean & Delicious style to the next level, try adding a big handful of fresh chopped kale to your bowl.  It adds a nice hearty bite and makes this chili even more satisfying.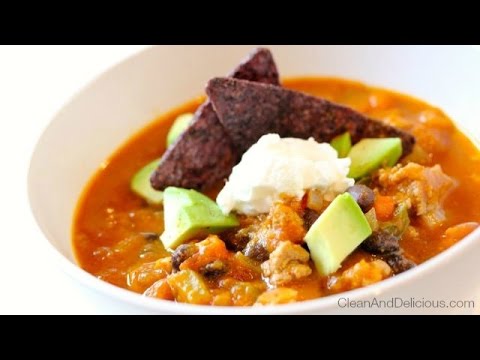 [Read more…] about Clean Eating Turkey + Pumpkin Chili (video)