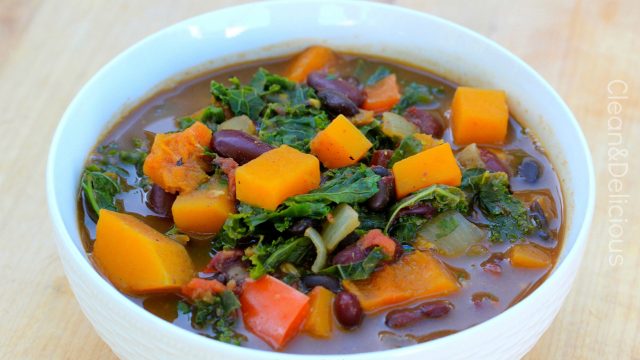 *This recipe is from the archives. An oldie but a goodie.
I know that technically last week kicked off the New Year but for me this week is really the official kickoff.  This Butternut Squash Chili w/ Kale is the perfect meal to start off the New Year on the right foot!

You see, when you live three thousand miles away from your family and most of your friends, a tin of fresh baked Christmas cookies from home comes packed with a different kind of vitamin, Vitamin L.
Those cookies were chock full of LOVE and you better believe I wasn't going to let one crumb go to waste!  So into my belly they went, one by one, bite by bite, nibble by nibble.

Only problem is they slid down my throat, past my belly and into my butt!  So I'm gonna keep things nice and  light and veggie based for a while.
This recipe is really easy to make, the hardest part is wrestling with the butternut squash, but remember guys, if you need to save a little extra time you can buy butternut squash peeled and cubed for an extra buck or so at the grocery store.
Finishing the chili with some fresh kale gives it great hearty texture and helps me find yet another way to get my greens in!