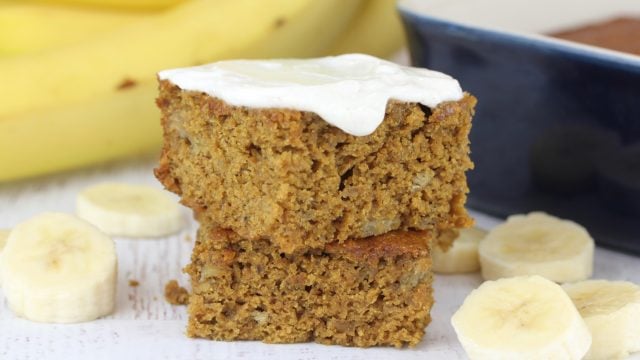 Banana Bread is a constant favorite in our house.  Actually, we get excited about banana ANYthing and always have at least half a dozen bananas on the counter on any given day.
This bread uses lots of bananas (the recipe calls for 12 ounces ISH but honestly, the more banana the better) and only one cup of white whole wheat flour which is what creates a super moist bread with lots of banana flavor.
We like to bake it in this 9×9 ceramic dish but you can also use a loaf pan, you may just need to cook it for an extra 5 minutes or so.
If you want to create a bit of an icing for this bread, mix a couple drops of stevia (or a tablespoon or two of maple syrup) with some plain greek yogurt and a few dashes of cinnamon.  It's super yummy and makes it even more delicious.