Clean Eating Coleslaw (Video)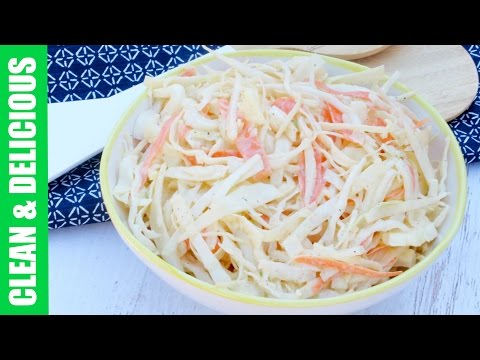 Remember those Sweet and Smokey Turkey Burger I posted at the beginning of the week?
Well this is the recipe that I served them with… a super simple, super light Coleslaw.
What makes this coleslaw so lite you ask?  Well that my friends, is all about the Greek yogurt.
It's no secret these days that fat-free (or low-fat) Greek yogurt is a great way to lighten up just about any recipe that calls for mayo or sour cream!  It's already strained so most of the water is drained out leaving us with a very rich and creamy yogurt that is thick enough to coat the cabbage in this slaw.
Now if you wanted to ease your way into this clean eating slaw, you could certainly do a 50/50 combo of the yogurt and some mayo.  This is a great option for anyone who wants to keep it light but isn't not 100% ready to give up their mayo (which I completely relate to and often travel this road myself).
As for the sugar, feel free to sub in some agave or honey if you prefer.  I just so happened to have some organic sugar sitting right on the counter and so into the slaw it went.  It's only a teaspoon so I don't think you can go wrong with whatever sweetener you choose!
Clean Eating Coleslaw
Yield: 8 servings
Prep Time: 15 minutes
Cook Time: 0 minutes
Total Time: 15 minutes
Ingredients:
1 small head of cabbage, thinly sliced (About 10 cups)
1/3 cup chopped scallions
2 grated carrots
1 clove of garlic, minced
2 tbsp apple cider vinegar
½ cup of plain fat free Greek yogurt
2 tsp Dijon mustard
1 tsp sugar
Salt and pepper to tatse
Directions:
In a large bowl combine cabbage, scallions, and carrots.
In a separate smaller bowl, mix together the garlic, vinegar, yogurt, mustard and sugar.
Toss dressing over the cabbage mixture and combine well.  Season with salt and pepper and enjoy.
Makes 8 - 3/4cup servings.
Nutrients per 3/4-cup: Calories: 48; Total Fat: 0.3g; Saturated Fat: 0g; Cholesterol: 0mg; Carbohydrate: 9.6g; Dietary Fiber: 3.1; Sugars: 6.2g; Protein: 3.2
Share This: