Video: Spaghetti Squash "101"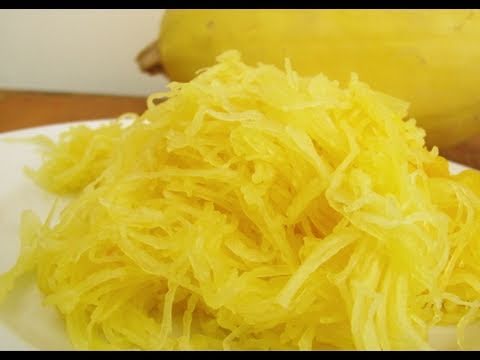 There are several different ways to prepare Spaghetti Squash; but to be completely honest, the absolute easiest and fastest way is to use the microwave.
I've read a lot of different information about microwave cooking and like almost all scienctific information provided about nutriition, I found a bunch of different and often contradictory theories.  Some people say it's the worst thing that you can do to your food, while others suggest you can do more damage boiling or cooking at high temperatures.  Suprise, suprise and ay yay yay!
Honestly, I don't use the microwave a whole lot, but as you know, I am all about "picking and choosing" my battles in the kitchen (and in life).  Spaghetti Squash is one of those ingredients that not only takes a 1/4 of the time in the microwave as it would in the oven, but it doesn't seem to alter the taste at all and whether you choose to microwave your squash or bake it in the oven, essentially you are steaming it, so the flavor is consistent either way.
My bottom line point of view when it comes to microwaving: Like everything, moderation is key.  Go to it in a pinch and as a friend.  If using the shortcuts of a microwave is going to help you get nutritious foods on the table, then I say do what you got to do!
However, if you are anti-microwave, no worries, here's all you have to do:  Slice your spaghetti squash in half lengthwise, scrap out the seeds, place it flesh side down in a large baking dish filled with water and cook it at about 375 for 45 minutes to an hour.  Other than the time, you'll get the same results.
Have any of you guys tried Spaghetti Squash before??  If so, what are you're favorite ways of preparing it?  I'll be posting some recipes using Spaghetti Squash through October and would love to hear some of your ideas!
One-cup of cooked Spaghetti Squash:
Calories: 42; Total Fat: 0.4g; Saturated Fat: 0.1g; Cholesterol: 0mg; Sodium: 28mg; Carbohydrate: 10g; Dietary Fiber: 2.2g; Sugars: 3.9g; Protein: 1g
Share This: