Clean Eating Pan Seared Chicken w/ Balsamic Strawberries and Feta Cheese
I've learned that when it comes to cooking, it's more important to observe the technique instead of the details of the exact recipe.
So for instance, the details in this recipe would be the balsamic strawberries and feta cheese. They make a great combo and are delicious and in season right now but you could easily change up the topping with whatever you had on hand.
You could do a different fruit or skip the fruit and go right for an all veggie salsa-like topping. Or you could skip the topping and serve the chicken over a big bed of spinach or arugula. Whatever road you travel the details always have endless options.
Now on the flip side, the lightly sautéed chicken breast would be the technique. It is a super simple, quick, healthy way of preparing the chicken. And since we are using a non-stick pan we are able to get the browning results that sautéing provides without having to use a lot of added fat.
Once you have this cooking technique in your back pocket, you'll never let chicken sit in your fridge again. At the very least you know you can give it a light sautee and serve it with some of your favorite fruits or veggies. Or perhaps you'll venture out and try my balsamic strawberry topping*.
You can get the recipe for the balsamic glaze here.
What are some of your favorite ways to make a quick chicken dish? Have you ever tried adding fruit to your chicken before?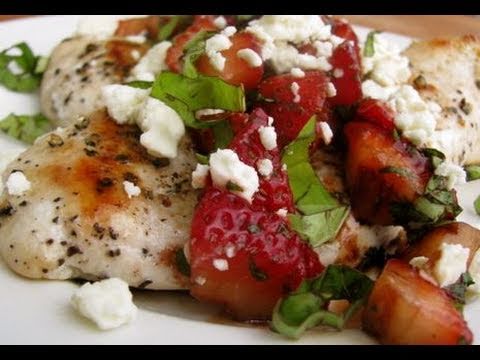 Pan Seared Chicken w/ Balsamic Strawberries and Feta Cheese
Ingredients:
1 lb of thinly sliced, boneless, skinless chicken breast
1 heaping cup of chopped strawberries
2 tablespoons of basil
1 tbsp of mint
3 tbsp of feta cheese
1 tsp of balsamic glaze
2 tsp of olive oil
Salt and pepper to taste
Directions:
In a small bowl combine the strawberries and balsamic glaze.  While they get to know each other you're gonna get started on the chicken.
Heat two teaspoons of olive oil in a large non stick saute pan over a medium high heat.  Season both sides of the chicken with salt and pepper and then get them into the pan.
Cook the chicken for two to three minutes per side, browning up each side as it cooks.  Once it's done, remove the chciken and plate it up.
Gently stir your herbs in with the strawberries and spoon a couble tablespoons over each chicken breast.  Top with a tbsp of feta cheese and enjoy.
Calories: 181; Total Fat: 5.8g; Saturated Fat: 1.5g; Cholesterol: 60mg; Sodium: 231mg; Carbohydrate: 8.4g; Dietary Fiber: 1.2g; Sugars: 6.8g; Protein: 26.2g
Share This: