How-To Make Balsamic Glaze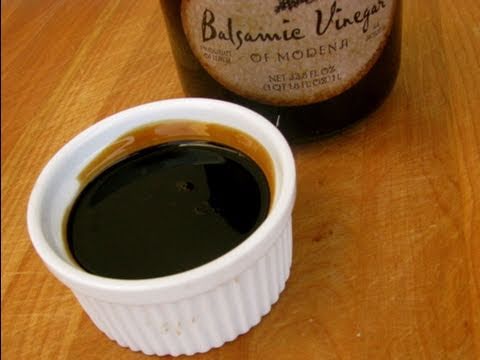 Balsamic Glaze is just a fancy way of saying reduced down Balsamic vinegar.  It's a super simple way to add lots of flavor to a dish with out adding lots of extra calories or fat.
I make this every couple of weeks and then just leave it in the fridge to use as a dip for raw veggies or drizzled on salad. It's also a great way to add a little zing to some simply grilled fish or chicken. And every now and then if I'm having a little sweet tooth, I'll mix some balsamic glaze with some berries and spoon it over vanilla ice cream:).
I know that often times people will little bit of sugar to balsamic glaze to sweeten it up a bit more, but I find it sweet enough with out the addition of extra sugar. I really like the tangy-sweet-and-sour flavor that it has just the way it is!
Balsamic Glaze
Ingredients:
2 cups of Balsamic vinegar
Directions:
Pour vinegar into a small sauce pan and bring to a boil.  Once you've got a boil, reduce the heat and allow the vinegar to simmer for about 30-45 minutes or until the vingar has become thick enough to coat the back of a spoon (you should have about 1/4 cup of glaze when it's done).
Remove from heat and allow to cool. Store in a container with a lid and pop it in the fridge.  It should last you a few weeks.
One tbsp. of Balsamic Glaze:
Calories: 35; Total Fat: 0g; Saturated Fat: 0g; Cholesterol: 0mg; Sodium: 5mg; Carbohydrate: 9g; Dietary Fiber: 0; Sugars: 7g; Protein: 0g
Share This: